Product List
Exhibition
China Import and Export Commodity Fair (Canton Fair) is held in Guangzhou in every April and October.
Find out more >>
Certificate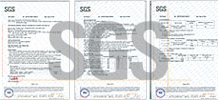 FAQ
| | |
| --- | --- |
| | Question: |
| | CAN I PUT MY BOTTLE IN THE DISHWASHER? |
| | Answer: |
| | Hand-wash recommended with non-abrasive soap. Leave cap off and allow to air dry. Your bottle is dishwasher safe, but the harsh environment may cause wear to the paint. |
Contact Us
Yongkang EcoStar Industry&Trade Co., Ltd.
Add: Bai Liantang Industrial zone,Tangxian Town,Yongkang City,Zhejiang China
P.C: 321300
Tel: +86-579-87592536
Fax: +86-579-87592538
Email:
sales@envirodrinkware.com


About Us
Yongkang Ecostar Industry & Trade Co., Ltd.
1. about our company and factory
Yongkang Ecostar Industry & Trade Co., Ltd. sells various kinds of
stainless steel bottles
,
vacuum flasks
,
baby feeding bottles
,
travel mugs
,
plastic bottles
,
travel pots
,
coffee pots
,
food containers
,
aluminum bottles
,
promotional gift sets
and
hip flasks
. By right of our perspicacity and advanced consciousness on services and product quality, we are active and innovative. We are dedicated to becoming a famous and professional company in our field.
"Gaining Mutual Benefits with our Faithfulness and Credit" is our tenet.
2.about our bottle
EcoStar bottle was created out of a need to find a drinking bottle that kept water clean, safe and pure. We are concerned about chemicals leaching into our drinks from plastics, the eternal problem of disposing of huge amounts of plastics and plastic debris in the environment. Stainless steel is a food grade product, tested and trusted by the food and beverage industries. It is easy to clean, toxin free, non leaching, odour and taste free, recyclable and robust for continued usage.
Our business has grown to be the best supplier of stainless steel bottles in China, thanks to some marketing but a lot of positive 'word of mouth' from satisfied customers. We aim to offer the very best in customer service and it is our company objective to grow the wholesale business whilst maintaining excellent quality product and low market pricing. We want to make stainless steel water bottles accessible for everyone to own and enjoy.
Our range of bottles is complemented by the fabulously gorgeous and desirable range of GREENSMART totes and lunchbags, an environmentally committed company producing beautiful and long lasting goodies . We are extremely fortunate in China to have safe and drinkable tap water. We recommend filtering, pouring it into your Mudpuppy and storing it in the fridge for when you need it. The bottles are great for the office, school, sports and everyday use.
We will keep our links page updated with the latest research into Bisphenol-a and drinking water!

Vacuum Flask User Guide
Here are some tips for you to use vacuum flask for maintaining your beverage hot or cold in a more efficient way.
To Keep Beverage Hot
Fill vacuum flask or vacuum bottle with warm water and let it stand for 5 minutes.
Empty it and fill it with hot beverage.
To Keep Beverage Cold
Fill vacuum flask or vacuum bottle with cold water and let it stand for 5 minutes.
Empty it and fill it with cold beverage.
What's Important
Do not drop ice cubes into vacuum flask or vacuum bottle, otherwise the inner lining will be cracked. Fill it with beverage, and then gently add crushed ice.
To Open
Turn the cap anti-clockwise.
To Close
Turn the cap clockwise.
Filter Coffee
Our vacuum flask or vacuum air pot is specially designed so that you can brew coffee directly in it. The top will accommodate filter cone of any standard.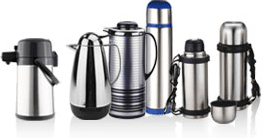 Make Tea
You can make tea directly in your vacuum flask or vacuum air pot. Place the tea bags into it and tie the string to the handle. Do not use a metal tea ball.

Care & Use
1)Stainless Steel Water Bottles Product Care
EcoStar Stainless Steel Water Bottles are 100% Recyclable!
* Before using your stainless steel water bottles for the first time wash bottle and cap thoroughly in warm soapy water.
* After each use, wash the bottle and cap in warm water using a mild detergent or dish soap. Allow all parts to completely air dry before reassembling.
* Remove caps from bottles for long-term storage.
* Dishwasher cleaning is safe, but not recommended for stainless steel water bottles.
* Never use with hot liquid with stainless steel water bottles.
* When using carbonated drinks, avoid unnecessary shaking and use care when opening as pressure may have built up from carbonation.
* Suitable for fruit juices and acidic beverages
* Alcohol or fermented beverages may cause excess pressure to build up in the bottle.
* Do not use for any liquid not meant for human consumptione.g., liquid fuels, or other flammable, corrosive, or chemical substances.
* Do not use for long-term storage of liquids.
* Do not microwave or freeze.
* Stainless steel water bottles May be refrigerated.
* Recycle damaged bottles.

news